Q-Scout STEM Robot
Q-scout is your child's best company into the robotic world: adorable design appeals to every kid; The building process is enjoyable and less than 30 minutes; Enjoy all tech fun on the App with line tracking and ultrasonic obstacle avoiding; Learn programming with an easy drag-and-drop coding interface!
The sun is up and it's a brand new day! The little Q-Scout is ready to explore the world, the only thing missing is You!
Features:
He is a perfect STEAM toy and coolest gift for kids, comes with many metal blocks in the box.  And then kids can begin to build their own robot toy companion. Constructing and building things from scratch – that's engineering right there! Kids can develop logical thinking ability and problem-solving skills while learning coding.
Download the app before assembling, as it has the detailed instructions embedded in, and no hard copy is included in the package. It will connect easily and quickly to your Tablets/ Phones.
The remote control is simple and easy to use. It is ideal for teaching kids coding. Children can also create their own commands by simply adapting Scratch, dragging and dropping different commands in the App.
Programming:
Code it from all platform, the Robobloq App (iOS/Android) is a great place to train logical thinking for new coders.
For PC, The advanced Robobloq software could support (Windows/MacOS/Linux/Chrome).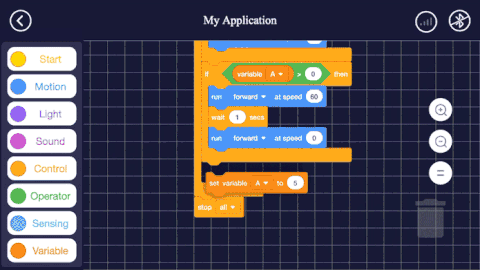 Battery Requirements: 6 pcs AA batteries or li-ion-battery for Remote. Batteries are not included
Package Includes:
1 x Q-Scout Robot