100g Thermal Grease K-5211 with 1.2 Thermal Conductivity
K-5211 thermal grease is produced using imported raw materials and formulas. It is made of a paste grease made from a combination of metal oxides and organosilicons with good thermal conductivity and insulation properties. Good electrical insulation, wide operating temperature (operating temperature -50°C~+200°C), good stability, lower consistency, and good workability. This product is non-toxic, non-corrosive, tasteless, dry, and insoluble.
Specifications:
Format: White paste
Penetration (1/10mm, 25°C): 260~300
Specific gravity (g/cm3): 1.9 to 2.1
Oil Dispersion (%, 200°C, 8h): ≤2.0
Volatile (%, 200°C, 8h): ≤2.0
Breakdown voltage strength (kv/mm): ≥10
Volume resistance (Ω.cm): 4×1014
Thermal conductivity (w/m·k): ≥1.2
Instructions:
The surface to be coated is cleaned, oil stains are removed, and the thermally conductive silicone ester is directly extruded to uniformly coat the surface to be coated. The coating method can be applied by brushing, squeegeeing or roller coating as required.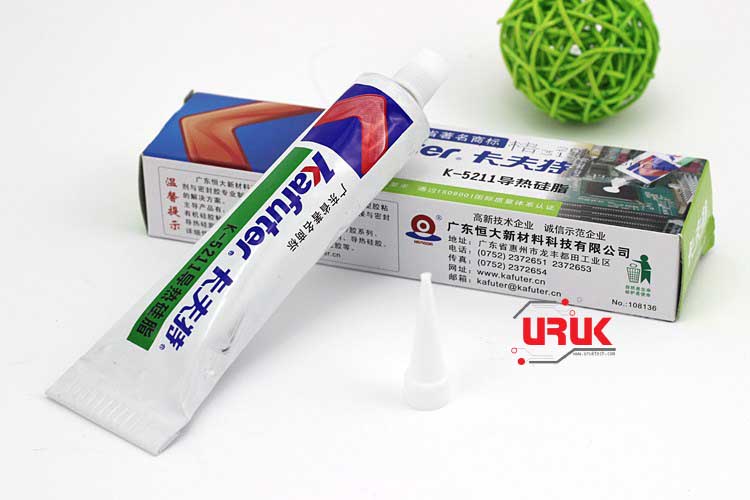 Precautions:
The construction surface should be uniform, and the more the coating is, the better the coating should be. Instead, a thin layer can be applied under the premise of ensuring the clearance of the filled surface.
Applications:
Widely used in electronics, electrical appliances, components, heat dissipation, filling or coating, in order to derive the heat generated by components. Such as CPU and heat sink interstitial, high-power transistor, thyristor components, diodes, and substrate (aluminum, copper) in contact with the filling of the gap, as the machine power amplifier tube and heat sink, semiconductor refrigeration and so on. Reduce the operating temperature of the heating element.
Package Includes:
1 x 100g k-5211 Thermal Grease