Today, we are going to Interface 2.4 inch TFT LCD Shield with Arduino. By using this color TFT LCD shield we can show characters, strings, blocks, images etc on the color TFT LCD. And we can use this TFT Shield in many applications like:  Security System, Home Automation, Games etc.
Interfacing TFT LCD with Arduino is very easy. We only need to have an Arduino Board & a 2.4 inch TFT Shield in hardware part and Arduino IDE & TFT Library in software part. Many libraries are available on the Internet, for TFT Shield to operate, but different TFT LCDs have different inbuilt drivers. So first we need to identify the driver of TFT and then install a suitable library for that. Here we are using 2.4 inch TFT Shield having ili9341 driver. Link, for downloading the Library for given TFT, is given in 'Steps' below.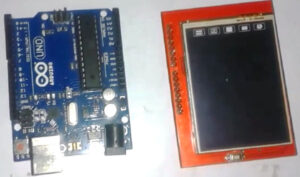 Circuit Diagram:
User only needs to insert TFT Shield over the Arduino. Because TFT Shield is compatible with Arduino UNO and Arduino mega.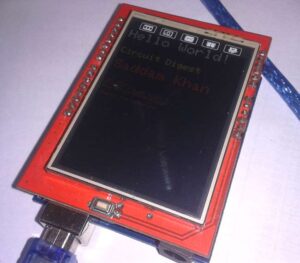 Steps for Installing TFT library in Arduino IDE:
Step 1: Download the TFT library for Arduino, from the below given link and make it zip (if not already zipped).
https://github.com/JoaoLopesF/SPFD5408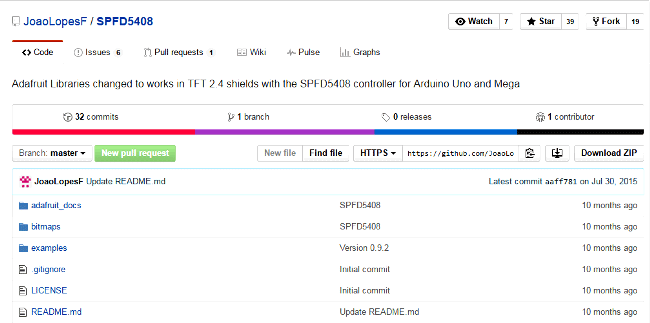 Step 2: After this, copy and paste it in Arduino library folder in Program Files.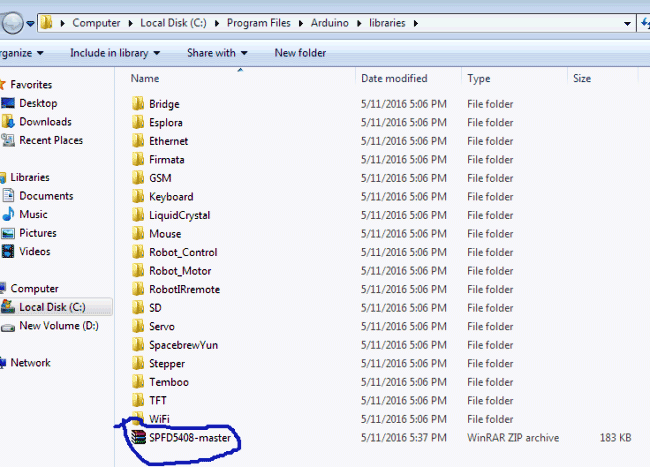 Step 3: Now open Arduino IDE and select Sketch -> Include Library -> Add .ZIP Library.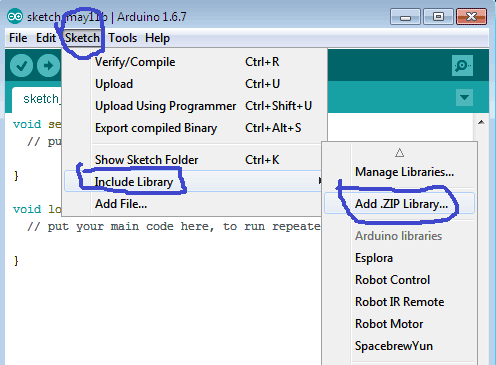 Then go to the Arduino Library in Program Files, where you have pasted the zipped downloaded library in Step 2­­ and select and open zipped SPFD5408-Master library.
My Computer -> C: Drive -> Program Files -> Arduino -> libraries
Now after opening the SPFD5408 Master Library, you can see that your library file has been installed in Arduino IDE.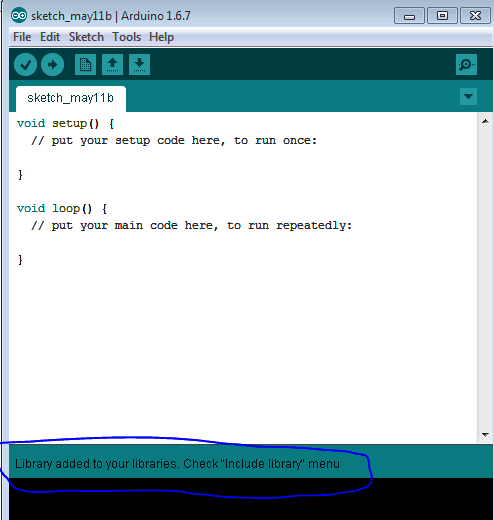 Step 4: Now in Arduino IDE go to, File -> Example -> SPFD5408-master -> spfd5408_graphictest
Open it, compile it and then upload it in Arduino.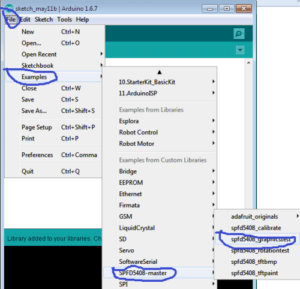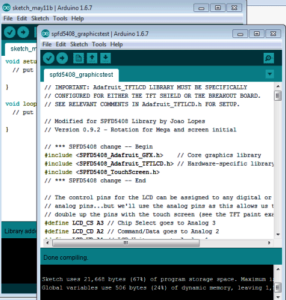 Now you will get your results on TFT. Users can modify this code according to their requirements, like we have inserted some 'Text' according to us.
Note: Same steps can be followed to install any Library in Arduino IDE.
Arduino Code
// IMPORTANT: Adafruit_TFTLCD LIBRARY MUST BE SPECIFICALLY
// CONFIGURED FOR EITHER THE TFT SHIELD OR THE BREAKOUT BOARD.
// SEE RELEVANT COMMENTS IN Adafruit_TFTLCD.h FOR SETUP.
// Modified for SPFD5408 Library by Joao Lopes
// *** SPFD5408 change — Begin
#include <SPFD5408_Adafruit_GFX.h>    // Core graphics library
#include <SPFD5408_Adafruit_TFTLCD.h> // Hardware-specific library
#include <SPFD5408_TouchScreen.h>
// *** SPFD5408 change — End
// The control pins for the LCD can be assigned to any digital or
// analog pins…but we'll use the analog pins as this allows us to
// double up the pins with the touch screen (see the TFT paint example).
#define LCD_CS A3 // Chip Select goes to Analog 3
#define LCD_CD A2 // Command/Data goes to Analog 2
#define LCD_WR A1 // LCD Write goes to Analog 1
#define LCD_RD A0 // LCD Read goes to Analog 0
#define LCD_RESET A4 // Can alternately just connect to Arduino's reset pin
// When using the BREAKOUT BOARD only, use these 8 data lines to the LCD:
// For the Arduino Uno, Duemilanove, Diecimila, etc.:
//   D0 connects to digital pin 8  (Notice these are
//   D1 connects to digital pin 9   NOT in order!)
//   D2 connects to digital pin 2
//   D3 connects to digital pin 3
//   D4 connects to digital pin 4
//   D5 connects to digital pin 5
//   D6 connects to digital pin 6
//   D7 connects to digital pin 7
// For the Arduino Mega, use digital pins 22 through 29
// (on the 2-row header at the end of the board).
// Assign human-readable names to some common 16-bit color values:
#define            BLACK   0x0000
#define            BLUE    0x001F
#define            RED     0xF800
#define            GREEN   0x07E0
#define CYAN    0x07FF
#define MAGENTA 0xF81F
#define YELLOW  0xFFE0
#define WHITE   0xFFFF
Adafruit_TFTLCD tft(LCD_CS, LCD_CD, LCD_WR, LCD_RD, LCD_RESET);
// If using the shield, all control and data lines are fixed, and
// a simpler declaration can optionally be used:
// Adafruit_TFTLCD tft;
// — Setup
void setup(void) {
Serial.begin(9600);
progmemPrintln(PSTR("TFT LCD test"));
#ifdef USE_ADAFRUIT_SHIELD_PINOUT
progmemPrintln(PSTR("Using Adafruit 2.8\" TFT Arduino Shield Pinout"));
#else
progmemPrintln(PSTR("Using Adafruit 2.8\" TFT Breakout Board Pinout"));
#endif
tft.reset();
// *** SPFD5408 change — Begin
// Original code commented
//  uint16_t identifier = tft.readID();
//  if(identifier == 0x9325) {
//    Serial.println(F("Found ILI9325 LCD driver"));
//  } else if(identifier == 0x9328) {
//    Serial.println(F("Found ILI9328 LCD driver"));
//  } else if(identifier == 0x7575) {
//    Serial.println(F("Found HX8347G LCD driver"));
//  } else if(identifier == 0x9341) {
//    Serial.println(F("Found ILI9341 LCD driver"));
//  } else if(identifier == 0x8357) {
//    Serial.println(F("Found HX8357D LCD driver"));
//  } else {
//    Serial.print(F("Unknown LCD driver chip: "));
//    Serial.println(identifier, HEX);
//    Serial.println(F("If using the Adafruit 2.8\" TFT Arduino shield, the line:"));
//    Serial.println(F("  #define USE_ADAFRUIT_SHIELD_PINOUT"));
//    Serial.println(F("should appear in the library header (Adafruit_TFT.h)."));
//    Serial.println(F("If using the breakout board, it should NOT be #defined!"));
//    Serial.println(F("Also if using the breakout, double-check that all wiring"));
//    Serial.println(F("matches the tutorial."));
//    return;
//  }
//  tft.begin(identifier);
// Code changed to works
tft.begin(0x9341); // SDFP5408
tft.setRotation(0); // Need for the Mega, please changed for your choice or rotation initial
// *** SPFD5408 change — End
progmemPrintln(PSTR("Benchmark                Time (microseconds)"));
progmemPrint(PSTR("Screen fill              "));
Serial.println(testFillScreen());
delay(500);
progmemPrint(PSTR("Text                     "));
Serial.println(testText());
delay(3000);
progmemPrint(PSTR("Lines                    "));
Serial.println(testLines(CYAN));
delay(500);
progmemPrint(PSTR("Horiz/Vert Lines         "));
Serial.println(testFastLines(RED, BLUE));
delay(500);
progmemPrint(PSTR("Rectangles (outline)     "));
Serial.println(testRects(GREEN));
delay(500);
progmemPrint(PSTR("Rectangles (filled)      "));
Serial.println(testFilledRects(YELLOW, MAGENTA));
delay(500);
progmemPrint(PSTR("Circles (filled)         "));
Serial.println(testFilledCircles(10, MAGENTA));
progmemPrint(PSTR("Circles (outline)        "));
Serial.println(testCircles(10, WHITE));
delay(500);
progmemPrint(PSTR("Triangles (outline)      "));
Serial.println(testTriangles());
delay(500);
progmemPrint(PSTR("Triangles (filled)       "));
Serial.println(testFilledTriangles());
delay(500);
progmemPrint(PSTR("Rounded rects (outline)  "));
Serial.println(testRoundRects());
delay(500);
progmemPrint(PSTR("Rounded rects (filled)   "));
Serial.println(testFilledRoundRects());
delay(500);
progmemPrintln(PSTR("Done!"));
}
void loop(void) {
for(uint8_t rotation=0; rotation<4; rotation++) {
tft.setRotation(rotation);
testText();
delay(2000);
}
}
unsigned long testFillScreen() {
unsigned long start = micros();
tft.fillScreen(BLACK);
tft.fillScreen(RED);
tft.fillScreen(GREEN);
tft.fillScreen(BLUE);
tft.fillScreen(BLACK);
return micros() – start;
}
unsigned long testText() {
tft.fillScreen(BLACK);
unsigned long start = micros();
tft.setCursor(0, 0);
tft.setTextColor(WHITE);  tft.setTextSize(1);
tft.println("Hello World!");
tft.setTextColor(YELLOW); tft.setTextSize(2);
tft.println(1234.56);
tft.setTextColor(RED);    tft.setTextSize(3);
tft.println(0xDEADBEEF, HEX);
tft.println();
tft.setTextColor(GREEN);
tft.setTextSize(5);
tft.println("Groop");
tft.setTextSize(2);
tft.println("I implore thee,");
tft.setTextSize(1);
tft.println("my foonting turlingdromes.");
tft.println("And hooptiously drangle me");
tft.println("with crinkly bindlewurdles,");
tft.println("Or I will rend thee");
tft.println("in the gobberwarts");
tft.println("with my blurglecruncheon,");
tft.println("see if I don't!");
return micros() – start;
}
unsigned long testLines(uint16_t color) {
unsigned long start, t;
int           x1, y1, x2, y2,
w = tft.width(),
h = tft.height();
tft.fillScreen(BLACK);
x1 = y1 = 0;
y2    = h – 1;
start = micros();
for(x2=0; x2<w; x2+=6) tft.drawLine(x1, y1, x2, y2, color);
x2  = w – 1;
for(y2=0; y2<h; y2+=6) tft.drawLine(x1, y1, x2, y2, color);
t  = micros() – start; // fillScreen doesn't count against timing
tft.fillScreen(BLACK);
x1    = w – 1;
y1    = 0;
y2    = h – 1;
start = micros();
for(x2=0; x2<w; x2+=6) tft.drawLine(x1, y1, x2, y2, color);
x2   = 0;
for(y2=0; y2<h; y2+=6) tft.drawLine(x1, y1, x2, y2, color);
t    += micros() – start;
tft.fillScreen(BLACK);
x1    = 0;
y1    = h – 1;
y2    = 0;
start = micros();
for(x2=0; x2<w; x2+=6) tft.drawLine(x1, y1, x2, y2, color);
x2    = w – 1;
for(y2=0; y2<h; y2+=6) tft.drawLine(x1, y1, x2, y2, color);
t    += micros() – start;
tft.fillScreen(BLACK);
x1    = w – 1;
y1    = h – 1;
y2    = 0;
start = micros();
for(x2=0; x2<w; x2+=6) tft.drawLine(x1, y1, x2, y2, color);
x2    = 0;
for(y2=0; y2<h; y2+=6) tft.drawLine(x1, y1, x2, y2, color);
return micros() – start;
}
unsigned long testFastLines(uint16_t color1, uint16_t color2) {
unsigned long start;
int           x, y, w = tft.width(), h = tft.height();
tft.fillScreen(BLACK);
start = micros();
for(y=0; y<h; y+=5) tft.drawFastHLine(0, y, w, color1);
for(x=0; x<w; x+=5) tft.drawFastVLine(x, 0, h, color2);
return micros() – start;
}
unsigned long testRects(uint16_t color) {
unsigned long start;
int           n, i, i2,
cx = tft.width()  / 2,
cy = tft.height() / 2;
tft.fillScreen(BLACK);
n     = min(tft.width(), tft.height());
start = micros();
for(i=2; i<n; i+=6) {
i2 = i / 2;
tft.drawRect(cx-i2, cy-i2, i, i, color);
}
return micros() – start;
}
unsigned long testFilledRects(uint16_t color1, uint16_t color2) {
unsigned long start, t = 0;
int           n, i, i2,
cx = tft.width()  / 2 – 1,
cy = tft.height() / 2 – 1;
tft.fillScreen(BLACK);
n = min(tft.width(), tft.height());
for(i=n; i>0; i-=6) {
i2    = i / 2;
start = micros();
tft.fillRect(cx-i2, cy-i2, i, i, color1);
t    += micros() – start;
// Outlines are not included in timing results
tft.drawRect(cx-i2, cy-i2, i, i, color2);
}
return t;
}
unsigned long testFilledCircles(uint8_t radius, uint16_t color) {
unsigned long start;
int x, y, w = tft.width(), h = tft.height(), r2 = radius * 2;
tft.fillScreen(BLACK);
start = micros();
for(x=radius; x<w; x+=r2) {
for(y=radius; y<h; y+=r2) {
tft.fillCircle(x, y, radius, color);
}
}
return micros() – start;
}
unsigned long testCircles(uint8_t radius, uint16_t color) {
unsigned long start;
int           x, y, r2 = radius * 2,
w = tft.width()  + radius,
h = tft.height() + radius;
// Screen is not cleared for this one — this is
// intentional and does not affect the reported time.
start = micros();
for(x=0; x<w; x+=r2) {
for(y=0; y<h; y+=r2) {
tft.drawCircle(x, y, radius, color);
}
}
return micros() – start;
}
unsigned long testTriangles() {
unsigned long start;
int           n, i, cx = tft.width()  / 2 – 1,
cy = tft.height() / 2 – 1;
tft.fillScreen(BLACK);
n     = min(cx, cy);
start = micros();
for(i=0; i<n; i+=5) {
tft.drawTriangle(
cx    , cy – i, // peak
cx – i, cy + i, // bottom left
cx + i, cy + i, // bottom right
tft.color565(0, 0, i));
}
return micros() – start;
}
unsigned long testFilledTriangles() {
unsigned long start, t = 0;
int           i, cx = tft.width()  / 2 – 1,
cy = tft.height() / 2 – 1;
tft.fillScreen(BLACK);
start = micros();
for(i=min(cx,cy); i>10; i-=5) {
start = micros();
tft.fillTriangle(cx, cy – i, cx – i, cy + i, cx + i, cy + i,
tft.color565(0, i, i));
t += micros() – start;
tft.drawTriangle(cx, cy – i, cx – i, cy + i, cx + i, cy + i,
tft.color565(i, i, 0));
}
return t;
}
unsigned long testRoundRects() {
unsigned long start;
int           w, i, i2,
cx = tft.width()  / 2 – 1,
cy = tft.height() / 2 – 1;
tft.fillScreen(BLACK);
w     = min(tft.width(), tft.height());
start = micros();
for(i=0; i<w; i+=6) {
i2 = i / 2;
tft.drawRoundRect(cx-i2, cy-i2, i, i, i/8, tft.color565(i, 0, 0));
}
return micros() – start;
}
unsigned long testFilledRoundRects() {
unsigned long start;
int           i, i2,
cx = tft.width()  / 2 – 1,
cy = tft.height() / 2 – 1;
tft.fillScreen(BLACK);
start = micros();
for(i=min(tft.width(), tft.height()); i>20; i-=6) {
i2 = i / 2;
tft.fillRoundRect(cx-i2, cy-i2, i, i, i/8, tft.color565(0, i, 0));
}
return micros() – start;
}
// Copy string from flash to serial port
// Source string MUST be inside a PSTR() declaration!
void progmemPrint(const char *str) {
char c;
while(c = pgm_read_byte(str++)) Serial.print(c);
}
// Same as above, with trailing newline
void progmemPrintln(const char *str) {
progmemPrint(str);
Serial.println();
}